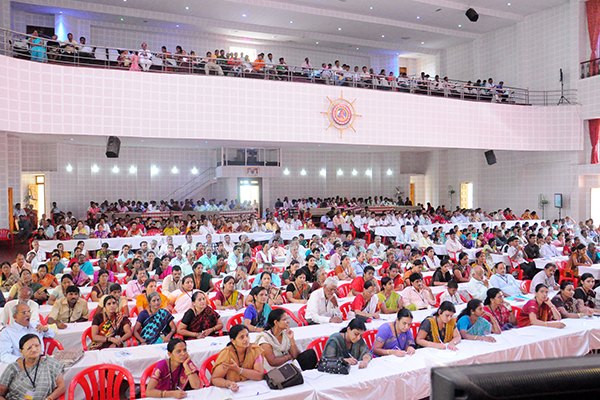 It is a known fact that a family's interest and objective is to have worthy progeny. On the surface, a child birth is seen as a result of mere physical unity but in reality lot of spiritual factors contribute to the cycle, right from Conceiving ,Gender, Health, Delivery and also the basic behavioural qualities of the child .
Swami Vivekananda as Sri Guruji at Divine Park has been revealing all Divine such secrets and suitable remedies too to probable pitfalls in the entire cycle of Progeny. His stress on Man Making is also felt in the importance he attaches to upbringing of the child. He has revealed that a Child can be devoid of all Past kukarma if the parents stick to specific Sadhana. A window of 18 months ( 9 months in womb and 9 months after delivery) is given by God to erase all the past karmic knots and make the child an ideal individual worthy of society and family.

Raksha Shree
'Rakshashree' is a One day work shop which teaches the finer aspects of parenting on these guidelines of Shri Guruji- Swami Vivekananda. The key points one can learn are,
Finer ways to teach kids
Child is a representation of God to reduce parents karmic stock.
A balanced way of treating kids - neither pampering not thrashing will fail to bring in the desired changes
It is easy to make kids 100% obedient
Society can be strong and healthy only if a family is happy
Divine qualities ,not money are the key to a happier family
Each one's share in making the Home a heaven
A life of lesser expenditure is possible through discipline and patience.